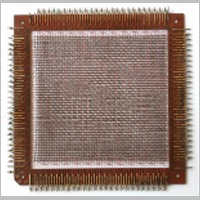 R300_fm2.jpg
141.82 KB
The size of the board is 16 x 16 cm and it is organized by 50 columns x 48 rows. The board can store 2400 bits.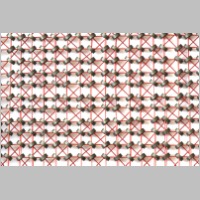 R300_fm2-det1.jpg
146.70 KB
More detailed view. Each ferrite core is traversed by four wires in this design.
.
R300_fm2-det2.jpg
74.86 KB
A detailed view to several cores. The wires have 0.2 mm in diammeter and the cores have 2 mm in diammeter.
This and other detail photos has been made with Canon 3D camera and Sigma APO Macro 180mm lens. .