Fr
Les ordinateurs de seconde ou 3ème génération, n'avaient pas de dispositifs d'entrée/sortie intégrés. (clavier, écran) Ils étaient très souvent connectés à un téléimprimeur, et le modèle le plus connu était le Teletype ASR33 (Alternate Send Receive). Il y a eu aussi le KSR33 (Keyboard Send Receive ?)
Ce Teletype comportait un clavier, une imprimante 10 caractères/seconde, un lecteur et un perforateur de ruban papier. (toujours à 10 lectures/seconde)
La liaison était du type série 110 bauds: 10 ou 11 moments = 1 start + 8 bits + parité + 1 stop (
parité? à vérifier!
)
Tout était mécanique: cela faisait du bruit, cela sentait l'huile et c'était souvent en panne! (Environ une fois par semaine)
Voici quelques photos d'une version US, que Mike Kersey m'autorise à vous montrer. (Je me suis permis d'améliorer un peu ses/ces photos)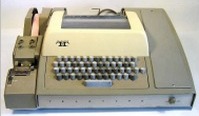 voir un Teletype ASR33 en fonctionnement
(Xvid de 9.5 MB)
(

note

la vidéo originale n'est pas de moi, mais j'ai effectué une compression Xvid 2 passes, en éliminant le bougé par programme. Je n'arrive pas à contacter la personne à l'origine de cette vidéo)
US
Second or 3rd generation computers had not integrated input-output. (keyboard, display) They were very often connected to a teleprinter, and the most famous model was the Teletype ASR33 (Alternate Send Receive). There was also KSR33 (Keyboard Send Receive?)
This Teletype included a keyboard, a printer (10 characters per second), a reader and a punch paper tape. (still at 10 readings/second)
The serial rate was 110 baud: 10 or 11 steps = 1 start bit + 8 bits of data + 1 parity stop (
parity? To be checked!
)
Everything was mechanical: many noise, it smelled of oil and it was often down! (About once a week)
Here are some photos of a U.S. version, Mike Kersey me to show you. (I perform some little enhancements on his/these photos)